Landkreis Schwandorf im Bild - 40 Jahre jung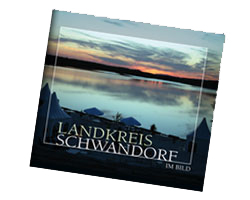 "Naturally in the midst of things" – this is one of the most apt descriptions of the district of Schwandorf. Heart of the Upper Palatinate, at the very center of Europe – these words convey more than a mere geographic location.
In the East, in the mountains of the Upper Palatinate Forest, our district shares a short length of border with our Czech neighbours. In the South, where the rivers Regen and Naab exit the district, Regensburg cathedral is only 15 kilometers away.
The landscape is made up of valleys and hills, of rivers and lakes, of verdant forests and vast tracts of agricultural lands.
The first known permanent settlements in the district appeared about 10 000 years ago. A population of over 140.000 lends vibrant life and economic power to the district. Industry and commerce offer 50.000 jobs and the unemployment rate is even lower than the low Bavarian average. At the Autobahn interchange "Upper Palatinate Forest" roads from Paris to Prague meet and open up the connection from the Baltic to the Adriatic Sea. One does, however, not get to know and love the district in passing, it is a place that invites you to stay. And whoever has found their purpose in life in the district of Schwandorf resides "naturally in the midst of things".
260 pictures spread over 184 pages document the broad spectrum of the district of Schwandorf: The four seasons, known and hidden locations, infrastructur as well as faces of the region.
Landkreis Schwandorf

Photography:

Gerhard Götz, Wackersdorf

Text selection:

Alfred Wolfsteiner, Schwandorf
Richard Conzelmann Grafik + Druck e.K. Albstadt, Sandra Harsch

Translation (English/Czech):

Petra Huber und Helmut Peschl
© 2012 Landratsamt Schwandorf
ISBN 978-3-926324-00-9
All rights reserved